Share This Story, Choose Your Platform!
Chasing Zero, my book documenting the environmental transformation of the LA-Long Beach ports will soon be widely available! The official release date is June 13, but pre-release copies will be sold Tuesday, May 24, at FuturePorts' 2023 Annual Conference.
Under the banner theme Strong Ports = Strong California, this year's conference focuses on decarbonizing supply chains, competitiveness, the regional and US economy, ESG principles, and the workforce that powers our supply chains. These are among the many issues explained and explored in my book.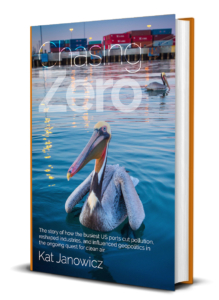 I wrote Chasing Zero because, as a seasoned professional in the energy, transportation, and technology sectors, I was fascinated by the transformative environmental journey of the San Pedro Bay ports. But as I tried to learn more, I found this story was scattered across a patchwork of government documents, legal filings, legislation, media coverage and memories. There was no single source explaining the ports' progression from the profound challenges that revolutionized how they do business to how they became global leaders pursuing a zero emissions future. Until now.
I pieced together this story in all its complexity with the help of thousands of documents, hundreds of hours of video footage, and interviews with more than 150 individuals. I talked to port executives and staff, elected officials, industry leaders, scientists, professors, and everyday Southern Californians who live and work in and around the port. The tale of environmental progress at the ports is not just a technical one. It is a tapestry of personal stories and experiences.
With trade valued at more than $94 billion crossing its docks, the LA-Long Beach port complex is a cornerstone of the Southern California's economy. It is also one of the world's top 10 busiest container ports supporting more than 3 million jobs in the U.S. alone. Adoption of the ambitious Clean Air Action Plan (CAAP) – and the fact the ports acted on it – shook up the state, disrupted the industry, and led to dramatic clean air gain. But the job is not done.
Like the conference, Chasing Zero looks to the future. How do we innovate and cooperate to eliminate harmful emissions while strengthening our economy? How do we protect people and jobs? What are the challenges, costs, and opportunities? Herein lies the value of history: Looking back helps us move forward.
Coincidentally, I am this year's chair of FuturePorts. I can't wait to welcome all our participants, including our amazing lineup of speakers, to our conference and share our knowledge, experience, and insights for the benefit of our industry and our communities.
See you at the conference!
To register, visit: https://futureports2023.regfox.com/strong-ports-strong-california-conference-2023