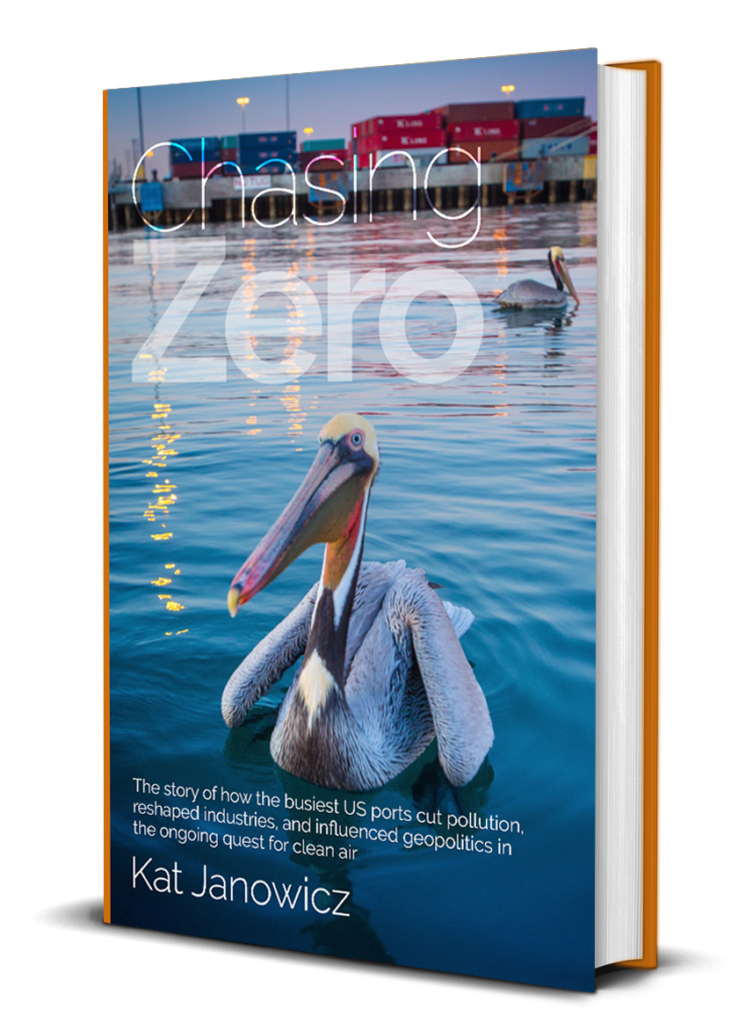 The landmark 2002 ruling in a lawsuit against the Port of Los Angeles and one of its terminal operators sent shock waves through global supply chains. To stay in business and continue to compete on the world stage, the LA and Long Beach ports had to start listening to the community and find common ground for reducing port-related air pollution. Ultimately, the ports underwent nothing short of an environmental reformation. Technical documents, legislative records, and news reports offer bits and pieces of this story, but the full account has never been told until now.
Drawing on more than two decades of experience in the energy, transportation, and technology sectors, Kat Janowicz digs deep to chronicle the transformation of the LA-Long Beach ports as a springboard for exploring the larger quest for an emission-free world: the choices, the costs, and the challenges. Janowicz reviewed thousands of documents, watched hundreds of hours of video recordings, and spoke to more than 150 people to tell this story and decode its complexities. Those who shared their knowledge, insights, and personal stories include current and former port executives and staff, elected and appointed officials, private industry leaders, scientists, educators, and everyday people who live and work in Southern California.
Captivating, informative, and entertaining, Chasing Zero—published by Rare Bird—is a primer for everyone from ordinary people to high-level decision-makers seeking to better understand the global trade, supply chain, technology, energy, and environmental issues and policies that affect us all. While painting a vivid portrait of the global challenges we face, the book sheds light on the exciting opportunities for current and future generations willing to tackle them.

Chasing Zero is the remarkable story of how America's largest port complex transformed its operations to dramatically reduce emissions, setting a trend that is now sweeping across ports around the globe. Until now, this story was relatively untold outside of the port community. Kat's experience as a longtime environmental business strategist and transportation expert enabled her to write this story with unique insight and from the perspective of the policy makers, administrators and stakeholders who teamed up to set this chase for zero in motion nearly 20 years ago. The best part is that the story continues to unfold. As of the printing of this book, the Ports of LA and Long Beach are closer than ever to achieving zero emissions operations. The chase to zero continues and represents the next great frontier in international trade, port operations and sustainability.

Dr. Noel Hacegaba
Deputy Executive Director/COO
Port of Long Beach