These two Marios have a few things in common. But there's no mistaking one for the other.
Share This Story, Choose Your Platform!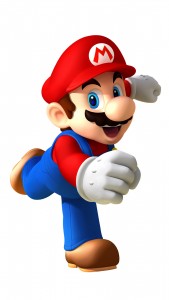 Mario Cordero is a maritime industry icon whose remarkable trajectory as a port leader came on the heels of his career as a workers' compensation attorney.
Super Mario is a cultural icon who shot to fame as an animated plumber.
Both are incredibly likeable guys.
Both have bushy mustaches.
Both get a lot of screen time.
Both are also problem-solvers. However, fictional Mario mostly runs around crushing goombas and rescuing Princess Peach. Real Mario tackles a wider variety of challenges by bringing people together and building consensus. And while real Mario's many known accomplishments don't include rescuing princesses, the guy known as the father of the Green Port Policy is passionate about saving the planet.
Super Marios: One is a maritime industry icon, the other a cultural icon. Click To Tweet Super Marios: Both are incredibly likeable guys. Both have bushy moustaches. Both get a lot of screen time. Click To TweetThe real Super Mario: The father of the Green Port Policy is passionate about growing green. Click To Tweet